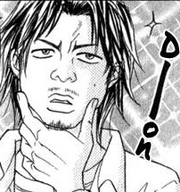 Yoshi (良)[1] is one of Teru Kurebayashi and Kiyoshi Hasegawa's close friends. He is a noticeably overweight boy. He doesn't hesitate to do or say embarrassing things, with his friends reacting mostly with comedic and good-humoured disgust. He openly admits to not being strong academically, relying on Teru and Kiyoshi to help him with studying. His extracurricular activities include being in a light music band with Ken.[2]
References
Edit
↑

The character 良 can be pronounced "Yoshi" and "Ryou". The official English release by Viz Media uses the translation "Yoshi", while early scanlations used "Yoshi" in chapter 9 and "Ryou" in two "Baldly Ask!" panels
Ad blocker interference detected!
Wikia is a free-to-use site that makes money from advertising. We have a modified experience for viewers using ad blockers

Wikia is not accessible if you've made further modifications. Remove the custom ad blocker rule(s) and the page will load as expected.