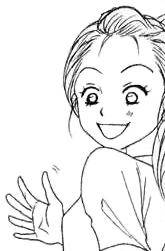 Mei (メイ)[1] is one of Teru Kurebayashi and Kiyoshi Hasegawa's close friends. She is the girl who pulls her bangs back and wears a ponytail. Notably, she comments on how good-looking Kurosaki is after Teru becomes his servant and also invites Teru to participate in a goukon (group date).
Known also by her full name Mei Tsukamoto (塚本 芽衣, Tsukamoto Mei), Mei has not been addressed by name in the story so far, which the author mentions is because of a lack of opportunity to do so.[1] She is described having the largest breasts amongst Teru's group (after Rena), being sensitive to fashion trends, and happens to be a fujoshi (a female fan of manga featuring love between two men).[1]
References
Edit
Ad blocker interference detected!
Wikia is a free-to-use site that makes money from advertising. We have a modified experience for viewers using ad blockers

Wikia is not accessible if you've made further modifications. Remove the custom ad blocker rule(s) and the page will load as expected.